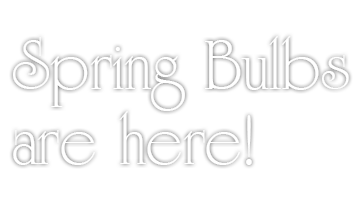 Why not come and say hello...in 2020
Feb 23 Sat
Snowdrops and others at Kingston Bagpuize, Oxon. OX13 5AX
Mar 1 Sun
Forde Abbey Early Spring Plant Fair, Chard, Somerset. TA20 4LU
Mar 6 Fri
The Coach House Ampney Crucis, Glos. GL7 5RS
Mar 27/
Apr 5
The Boule-In 'Fete de Printemps', Bildeston IP7 7ER
Mar 29 Sun
Norfolk & Norwich Horticultural Society Early Spring Show. Costessey Centre NR8 5AH
Apr 19 Sun
SWLT Spring Plant Fair. Lopham & Redgrave Fen nr Diss. P22 2HX
Apr 25 Sat
Essex Plant Heritage Spring Fair, RHS Hyde Hall. CM3 8ET
Apr 26 Sun
Arundel Castle Plant Fair, West Sussex BN18 9LH
May 3 Sun
Norfolk Plant Heritage Plant Fair, Hethersett NR9 3JJ
Welcome to the new 2020 Spring Planting Season.
The web-shop for the 2020 Spring Planting season is now open.
Deliveries will commence in late February through to late May
We have updated our range and have available some fabulous new Dahlias, Martagon Lilies and smaller 'Species' Gladioli within our range of over 500 varieties of bulb for spring planting.
For those who would like a print (pdf) copy find our Spring 2020 mail order sheet (250 vars only) via the following link
We also have a pdf list of Hort- Events Spring & Summer 2020 AMENDED here (mostly in the Eastern counties)
With all best wishes for the New Year
Matt, Sally & Imogen Long